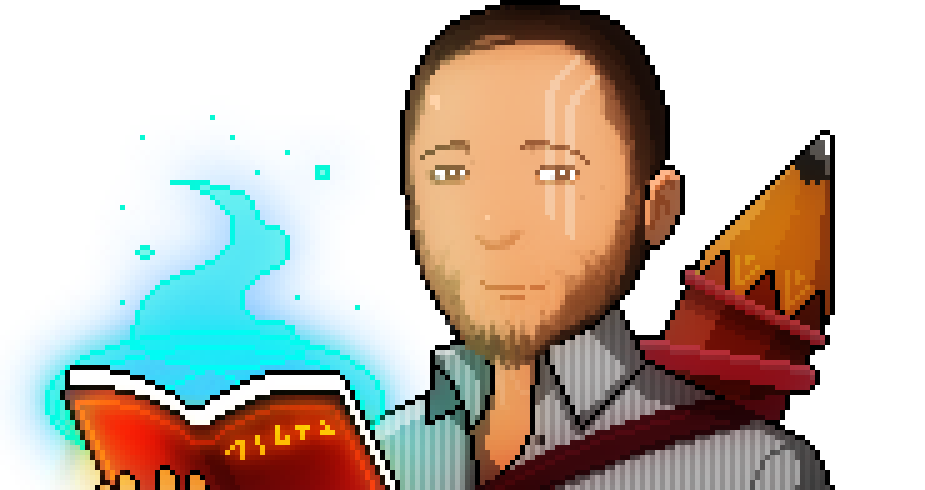 Developer Interview: Ennui!
Hi Captains!
With the upcoming patch this week and the new Tournament to follow, we thought it would be an excellent opportunity to get to know some of our development team.
---
Introducing Ennui, Loremaster!
Hey Captains!
It's Tom (Ennui) here, and storytelling has been my calling for as long as I care to remember. Before joining the Pixel Starships project with SavySoda, I've spent time as both a consultant for film scripts and as a freelance copywriter. Occasionally, I would try my hand at being a starving artist (which I can't recommend).
How did you get into writing? Any main influences?
I have been a voracious reader and avid video game enthusiast since early childhood. My love of fantasy and science fiction has always guided me towards otherworldly tales. My first real experiences with science fiction came from Star Wars, Dune, and the novels of Ursula Le Guin. I'd also like to mention Terry Pratchett and Stephen King, two authors who were hugely influential for me.
I play a tonne of video games – The Marathon and Escape Velocity series of games, although now too old for most, are both excellent examples of non-linear storytelling. Lastly, I thoroughly enjoy running D&D games!
Let's talk about the Galaxy Map. Any future plans?
I've been working on PSS for over two years now, and I'm always a little blown away by just how much the game has grown. The Galaxy Map Storyline is something I'm hugely proud of, taking countless hours to establish and reveal to players through progression.
We are closing in on the final design of the Galaxy Map, with enough locations and missions to keep the game fresh and challenging right up to the endgame. With the upcoming release of the second story arcs, we can start filling the game with more dynamic characters, evolving narratives, and a chance for players to influence the Galaxy directly.
Do you have a favorite character in the storyline?
It's been great seeing your feedback on some of the new characters that have started appearing in the latest Galaxy Missions. Some of these characters will be making regular appearances in the future. Writing for the Critical Kitt character is always an absolute blast, and I will happily spend hours editing her dialogue to make it just the right level of bonkers.
Are there any plans to expand old/historic lore?
I have heard the requests for more information on the events of the Pylon Wars, the collapse of the old Qtarian empire, and the origins of the Visiri. We are currently considering ways to expand upon those stories. We also have some Galaxy Map features in store for players: A mission display list for Galaxy navigation; the greatly anticipated changes to the Tournament; and roaming NPC ships on the Galaxy Map, just to name a few!
Of course, it's not just a straight path to get there; it's important that we make sure that the game stays challenging, engrossing, and fun. From minor tweaks to combat mechanics, to the overhaul slated for the mining missions, I can't wait for you all to see what's on the horizon.
---
We hope you enjoyed this peek behind the scenes, and getting to know a little more about our team.
If you ever have any feedback or suggestions, please check out the #story-suggestion channel on the Pixel Starships Discord. Thanks!
-SavySoda Team